SPIE Optics & Photonics 2020
---
The Optics and Photonics Digital Forum is a no-charge event that will focus on the latest technologies through live plenary presentations and on-demand technical talks, collaborate with exhibiting companies, and enjoy connecting with colleagues through online networking events. Mark your calendar and plan to connect with your community and advance your research.
Konica Minolta Sensing will be available virtually at the SPIE Photonics and Optics digital forum with its booth available August 24th-28th. Featured product will be its high-class spectroradiometer line with the worldwide reference CAS 140D and the high resolution CAS 140 CT-HR series. These are the instruments of choice to measure light radiation's spectral and color characteristics with highest accuracy and long-term precision.  Measuring challenges can easily be met by combining a variety of optical spectrometers with a wide range of Instrument System accessories. A multitude of applications is covered by our system solutions – UV-VIS spectroradiometry, luminous / radiant flux, LED and display production testing (including µLEDs, VCSELs and OLEDs) and also goniometric measurements. Visit us at the Konica Minolta virtual booth to discuss further your technical needs.
How to participate?
Register today at SPIE Optics and Photonics
Starting  August 24th visit Konica Minolta Sensing online here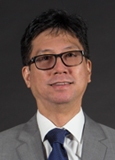 Jay started with Minolta's Photographic Division in 1992. In 2002 he later transferred to, what was then, Minolta's Instrument Systems Division as the Master Technician for the Service Department. Jay attended De La Salle University in Manila, Philippines majoring in Electronics Engineering with a minor in Communications. Currently, Jay serves as Technical Sales and Applications Manager for Canada, Texas and Southeastern United States.