Konica Minolta to Release New Portable Spectrophotometers CM-26d, and CM-25d offering unprecedented accuracy/inter-instrument agreement (IIA), usually found in laboratory-grade instrumentation
Ramsey N.J. (April 30, 2019) – Konica Minolta Sensing Americas, Inc. (Konica Minolta) today announced that the company will launch the new CM-26d and cost-effective model CM-25d portable spectrophotometers for high-precision color measurement.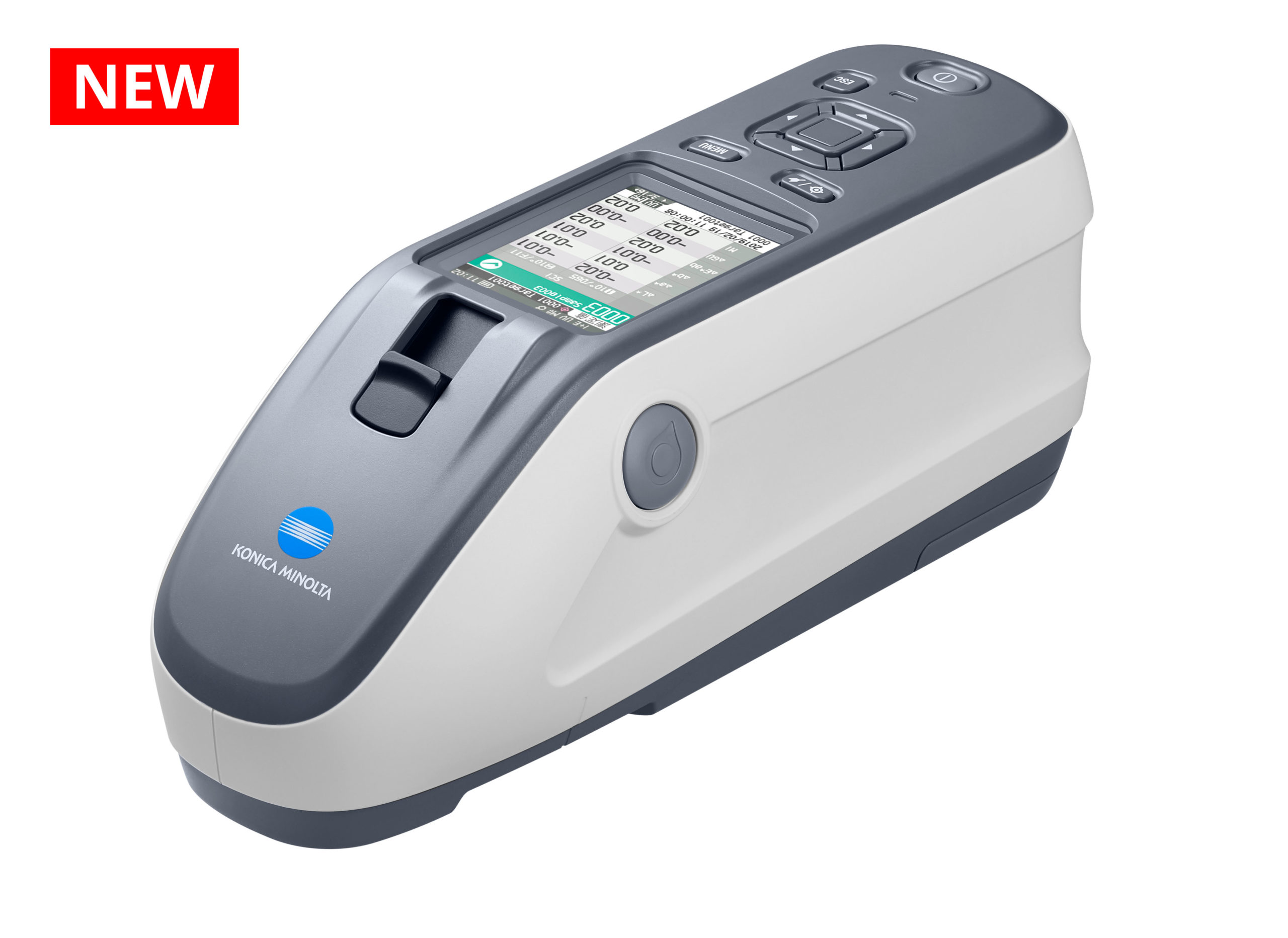 The CM-26d, and CM-25d are new models being introduced as the next generation of spectrophotometers. These instruments are used from R&D, Q.A., to production at sites that manufacture a range of parts for various industries such as automotive interors and exterior parts for smartphones and tablets, helping to increase efficiency and reduce manpower in customer operations and enabling digital color data management across increasingly globalized supply chains.
The CM-26d, and CM-25d portable spectrophotometers offer unprecedented accuracy/inter-instrument agreement (IIA), usually reserved for laboratory-grade instrumentation. This precision will allow superior color communication throughout the supply chain from supplier to final assembly. The CM-26d has an IIA of 0.12 DE* (average of 12 BCRA tiles), which is approximately 40% better than its predecessor.
The CM-26d can switch between Ø8mm and Ø3mm measurement areas (the CM-25d has a fixed Ø8mm measurement area) for measuring parts of different sizes. All models are also equipped with an illuminated viewfinder for accurate positioning on patterned subjects or small parts, and instrument surfaces which come in contact with the measurement subject, sample friendly aperture nicely fit to sample surface, giving repeatable results and both are ergonomicly designed for either right-handed or left-handed users.
The CM-26d and CM-25d offer additional features to improve work flow, eliminate waste/rework, and offer customers general cost savings on color related processes. The new Job function allows for graphical representation/instructions for routine color measurements to be made within specific processes. Combined with a reduced measurement time, this allows users of all levels to maintain high levels of productivity, accuracy, and consistency. Also included with each unit is the CM-CT1 Configuration Tool software that allows users to create/write instrument settings as well as compile it into a file and share it within its supply chain for proper global fleet management.
The information, specifications, and product appearance provided in this news release are subject to change without notice.
Find out more at /us/products/cm-26d-spectrophotometer/
Model
CM-26d
CM-25d
Illumination/viewing system

di:8°, de:8° (diffused illumination, 8° viewing angle)

SCI (specular component included)/SCE (specular component excluded) selectable with automatic switching

Wavelength range
360 to 740 nm
400 to 700 nm
Repeatability
Chromaticity value: Standard deviation within ΔE*ab0.02
Chromaticity value: Standard deviation within ΔE*ab0.04
(White calibration plate measured 30 times at 5-second intervals after white calibration was performed)
Inter-instrument agreement
Within ΔE*ab0.12
Within ΔE*ab0.2
(Average for 12 BCRA Series II color tiles. MAV-SCI. Compared to values measured with a master body under Konica Minolta standard conditions)
Dimensions (W x H x L) [mm]
Approx. 81×93×229
Weight [g]
Approx. 630
Approx. 620
Company profile of Konica Minolta Sensing Americas
Konica Minolta Sensing Americas, Inc. (KMSA), a wholly owned subsidiary of Konica Minolta, Inc., Sensing Business Unit is recognized as the international leader of industrial color and light measurement. The company is responsible for product lines that continuously revolutionize how visual perception is measured by the world.
Konica Minolta Sensing Americas' Ramsey, New Jersey corporate headquarters is fully equipped with a state of the art service center, technical support center, and a focused sales force dedicated to both the North American and South American regions. When it comes to color and light measurement, the world looks to Konica Minolta.
Contact:
Peter J Roos
Marketing Manager
Konica Minolta Sensing Americas
Phone: (201) 236-4300
Toll Free: (888) 473-2625
Web: https://sensing.konicaminolta.us/us
Email: marketing.sus@konicaminolta.com
Terms and product names may be trademarks or registered trademarks of their respective holders and are hereby acknowledged