Sheraton Detroit Novi Hotel
21111 Haggerty Rd, Novi, MI 48375
Tradeshow Website
September 27th: 8:00am – 6:00pm
September 28th: 9:00am – 5:20pm
September 27th: 9:00am – 5:00pm
September 28th: 9:00am – 2:00pm
Join us at the 29th annual symposium of Vehicle Displays Detroit Virtual Expo 2022.
Konica Minolta Sensing will be highlighting its latest progressive probes now made available to more various types of modern display technologies.  Used with our highly recognized Display Color Analyzer CA-410, these progressive probes are designed particularly for AR/VR micro-display and curved OLED display applications for luminance, chromaticity, and flicker (in JEITA, VESA and FMA). These new small spot probes measure ⌀2.1mm, ⌀4mm and viewing angle characteristics with our ⌀10mm long-working distance probe.
We will also be displaying Instrument System's LumiCam 4000B/2400B series, perfect for versatile automotive test applications, including measurement of luminance and color distributions of displays and control elements or uniformity analysis of flat panel display screens in car interiors.
Stop by and preview Instrument Systems' redesigned Top 200 Telescopic Optical Probe and their popular CAS 140D Spectroradiometer representing its 4th generation of their successful CAS series.
Visit us at our in-person booth anytime between September 27th-September 28th and discuss with our experienced sales and engineers to see how we can best fulfill your needs.
Follow these easy steps:
Register at SID Vehicle Display now
Visit our booth #602 between September 27th-28th and meet our team!
Interested in a complimentary  'Exhibit -Only' registration? Use code WPtkc73.
This code allows you to visit the exhibit hall without having to pay the admission fee. Anyone that wishes to attend the technical sessions must register and pay for the full conference.
Don't miss Instrument System's Presentation on 2D measurement and LiDAR safety on Wednesday, September 28th:
11:40am-12:00 pm
Session 5.4
Fast 2D Display Testing with Spectrally Corrected Colorimeters
Andreas Liebel, Justin Blanke, Tobias Steinel, Instrument Systems GmbH, Munich, Germany
12:00pm-12:20 pm
Session 5.5
VCSEL Characterization: LiDAR and Eye-Safety Testing
Justin Blanke, Andreas Liebel, Karthik Iyer, Frank Münchow, Instrument Systems GmbH, Munich, Germany
Look forward to seeing you this year!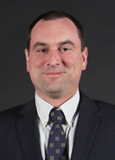 Randy is a graduate of Rochester Institute of Technology's Imaging and Photographic Technology B.S. program with a minor in Mathematics. He has held positions with the Department of Energy's Laboratory for Laser Energetics, and GretagMacbeth. During his tenure at KMSA, he has held the positions of Technical Support Manager, Project Manager, Application Engineering Manager, Midwestern Sales Manager, Northeast Sales Manager, and currently oversees all sales of light and display instrumentation within North and South America. Randy specializes in light and color measurement instrumentation and software technologies applicable to a broad scope of industrial and scientific use, and applies this expertise to solve problems faced by industry and research alike.