CA-410 Display Color Analyzer
---
Click to Enlarge Thumbnails
Click Here to Watch Video
Enhanced-accuracy & repeatability with high-speed that is capable of measuring a wider range of the latest displays
Konica Minolta's Display Color Analyzer Series has become the standard within the display industry. In addition, the latest display technologies such as HDR, OLED, micro-displays, etc. have created a need for a new level in measurement performance. The latest generation of the Display Color Analyzer, CA-410 with a diversified collection of its measurement probes, is designed to measure and test today's ever-evolving displays.
Equipped with new sensors and circuitry, the CA-410 offers users the ability to accurately measure and adjust the chromaticity and gamma characteristics of High Dynamic Range (HDR) displays across the wide range of super-low to high luminance. With improved XYZ filters that closely match the color-matching functions of CIE 1931, and a new calibration light source, which simulate wide-gamut OLED, users, can more accurately measure and adjust the white balance and chromaticity of wide color gamut displays.
Click here for the Konica Minolta CA-410 Probe Brochure
Click here for the CA-410 Small Spot Probes and Viewing-Angle Measurement Probe
Download CA-410 Probe Specification Data Sheet

Click here for the CA-410 CIE170-2 Compliant Probe Brochure

Click here for the CA-410 Manual.
Existing Customer?
If you're looking for service support or help with calibration then complete a service request form and we'll get right back to you
Features
Key Features for Measuring the Latest Displays
Accuracy guaranteed from low to high luminance



Allows for instantaneous measurements to be conducted immediately after the processor is started. No down time.
High-performance sensors and circuitry design combine to realize a wide accuracy-guaranteed luminance range that stretched from super-low to high emissions. This enables the CA-410 to meet the requirements for accurate measurement and tuning of chromaticity and gamma characteristics of OLED and HDR displays which require super-low luminance measurements. Pair the CA-410 with a lineup of high-luminance probes for measuring backlit modules equipped with new technologies like Mini-LEDs.
High accuracy comparable to spectroradiometers in chromaticity measurements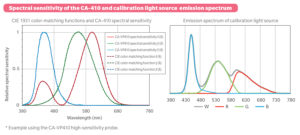 The CA-410 features highly accurate XYZ filters that push its spectral sensitivity close to the CIE 1931 color-matching functions. Moreover, because the calibration light source replicates the emission spectrum of LED displays, tristimulus chromaticity measurements can yield a high level of accuracy comparable to a spectroradiometer. This allows users to more accurately measure and tune the chromaticity and white balance of displays that have a wide color gamut.
High-speed measurements for enhanced productivity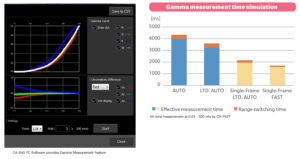 Owing to high sensor sensitivity and high-speed computing, measurements with the CA-410 are fast in a way that shortens the time needed to conduct multiple measurements for luminance and chromaticity evaluation and adjustment such as for gamma testing.
For even faster speed performance, the CA-410 offers LTD. AUTO mode that increases measurement speed while keeping the same or better accuracy than the predecessor CA-310. The addition of a Single-Frame mode, allows users to set the shortest integration time for synchronized measurements. The design improves productivity in processes where measurement speed is critical, such as inline color adjustments of OLEDs.
Designed for incorporation into automatic systems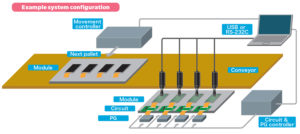 The CA-410 can be incorporated into and use in automatic systems. This includes a motorized zero-calibration shutter, synchronization detection function, and probe-PC direct connection, which allows full functionality with USB bus power. The CA-410 contains both RS-232C and USB ports, and when using USB, the virtual COM port allows quick and easy connections to probes without the need to install drivers. For convenience when incorporating the CA-410 into automatic systems developed for predecessor models CA-210/310, the basic communication commands of CA-410 the same. Also, CA-SDK2* includes as standard a COM registration tool which makes it possible to easily use the CA-410 with programs created for CA-210/310 using the previous CA-SDK. In addition, various cables for incorporation into systems are available as optional accessories.
Flicker measurement with a wide frequency range that covers any type of display
All the CA-410 probes measure flicker in the methods of JEITA (dB), VESA (dB), and FMA (Flicker Modulation Amplitude; AC/DC in %).
The CA-410 Normal Probes (CA-P427 and CA-P410) offer two different flicker measurement modes, CA-310 Mode and XYZ Mode, which allows users to measure flicker properly, depending on a type of displays. The CA-310 Mode performs flicker measurement, using a dedicated flicker sensor that includes a low-pass filter physically, which cuts off display frequency over 65Hz in order to eliminate high-frequency noise before sampling that could cause aliasing errors when measuring flicker on the LED-backlit displays. This mode allows existing CA-310 Flicker Probe users to measure flicker values that are entirely compatible with CA-310 flicker values. On the other hand, the XYZ Mode measures flicker across the frequency range of up to 200Hz with a manual setting of electrical low-pass filter use.
In addition, CA-S40 PC Software includes a measurement feature for waveform on display frequency. The waveform measurement feature helps, for example, researchers who strive to reduce the flicker phenomenon that human eyes can feel under low electricity consumption conditions by visualizing the emission fluctuation of the displays.
Probe Features & Line-Up
All of the CA-410 Probes:
Can be connected directly to PC via both USB & RS232C interfaces
Perform automatic dark calibration by a built-in electric shutter
Have wider operation temperature & humidity compared to previous models: 10 to 35℃ & Under 85%
Can be easily updated with firmware by USB connection to PC
Provide CA-SDK2 (Software Development Kit) and CA-S40 PC Software as standard
Specifications
Download CA-410 probe specification data sheet
High-Sensitivity Probe
High-Sensitivity Probe
CA-VP410 (left) and CA-VP427
• CA-VP427 ø27mm High-Sensitivity Probe
  – Best repeatability for OLED displays evaluation (e.g. smartphone, TV)
– Measurement area: ø27mm
– Applicable displays size: 5 inches and above
– Acceptance Angle: ±2.5°
– Working distance: 30 ±10mm
– Accuracy guaranteed range for Lv:  0.001 – 3000 nits
-Accuracy for Color (white): 0.01 – 3000 nits
– Repeatability for xy: 0.003 (at 0.01 nits), 0.0008 (at 0.1 nits)
– Flicker measurement range: 0.25-200Hz, 5-3000nits
– Waveform Sampling frequency:  3kHz (1-3000nits)
• CA-VP410 ø10mm High-Sensitivity Probe
  – Best repeatability for OLED displays evaluation (e.g. smartwatch)
– Measurement area: ø10mm
– Applicable displays size: approx. 2-10 inches and above
– Acceptance Angle: ±8.5°
– Working distance: 30 ±5mm
– Accuracy guaranteed range for Lv:  0.001 – 3000 nits
– Accuracy for Color (white):  0.01 – 3000 nits
– Repeatability for xy: 0.002 (at 0.01 nits), 0.0008 (at 0.01 nits)
– Flicker measurement range: 0.25-200Hz, 15-3000nits
– Waveform Sampling frequency:  3kHz (1-2500nits)
Advanced High-Sensitivity Probe
Advanced High-Sensitivity Probe
CA-VP410A (left) and CA-VP427A
• CA-VP427A ø27mm Advanced High-Sensitivity Probe
  – Best repeatability for OLED displays evaluation (e.g. smartphone, TV)
– Measurement area: ø27mm
– Applicable displays size: 5 inches and above
– Acceptance Angle: ±2.5°
– Working distance: 30 ±10mm
– Accuracy guaranteed range for Lv:  0.0003 – 5000 nits
– Accuracy for Color (white): 0.003 (at 0.003 nits), 0.002 (at 0.01 nits)
– Repeatability for xy:  0.003 (at 0.003 nits), 0.003 (at 0.01 nits)
– Flicker measurement range: 0.25-200Hz, 5-3000nits
– Waveform Sampling frequency:  3kHz (1-3000nits)
• CA-VP410A ø10mm Advanced High-Sensitivity Probe
  – Best repeatability for OLED displays evaluation (e.g. smartwatch)
– Measurement area: ø10mm
– Applicable displays size: approx. 2-10 inches and above
– Acceptance Angle: ±8.5°
– Working distance: 30 ±5mm
– Accuracy guaranteed range for Lv:  0.0001 – 3000 nits
-Accuracy for Color (white): 0.002 (at 0.003 nits), 0.002 (at 0.01 nits)
– Repeatability for xy:  0.0020 (at 0.003 nits), 0.0020 (at 0.01 nits)
– Flicker measurement range: 0.25-200Hz, 15-3000nits
– Waveform Sampling frequency:  3kHz (1-2500nits)
Normal Probe
Normal Probe
CA-P410 (left) and CA-P427
• CA-P427 ø27mm Normal Probe
  – Successor of CA-310 ø27mm Probes
(compatible with CA-310 flicker values: suitable for LCD flicker evaluation)
– Measurement area: ø27mm
– Applicable displays size: 5 inches and above
– Acceptance Angle: ±2.5°
– Working distance: 30 ±10mm
– Accuracy guaranteed range for Lv:  0.001 – 5000 nits
– Accuracy for Color (white):  0.003 (at 0.01 nits), 0.002 (at 0.1 nits)
– Repeatability for xy: 0.0035 (at 0.01 nits), 0.0015 (at 0.1 nits)
– Flicker measurement range:
(1) 0.25-65Hz with low-pass filter, 5-1500nits
(2) 0.25-200Hz without low-pass filter, 5-5000nits
– Waveform Sampling frequency:  3kHz (1-5000nits)
• CA-P410 ø10mm Normal Probe
  – Successor of CA-310 ø10mm Probes
(compatible with CA-310 flicker values: suitable for LCD flicker evaluation)
– Measurement area: ø10mm
– Applicable displays size: approx. 2-10 inches and above
– Acceptance Angle: ±5°
– Working distance: 30 ±5mm
– Accuracy guaranteed range for Lv:  0.001 – 5000 nits
– Accuracy for Color (white): 0.006 (at 0.01 nits), 0.002 (at 0.1 nits)
– Repeatability for xy: 0.007 (at 0.01 nits), 0.002 (at 0.1 nits)
– Flicker measurement range
(1) 0.25-65Hz with low-pass filter, 15-3000nits
(2) 0.25-200Hz without low-pass filter, 15-5000nits
– Waveform Sampling frequency:  3kHz (1-5000nits)
Small Spot Probe
Small Spot Probe
CA-VP402 (left) and CA-VP404
• CA-VP402 ø2.1mm High-Sensitivity Small Spot Probe
  – Suitable for micro OLED displays evaluation
– Measurement area: ø2.1mm
– Applicable displays: Micro OLED displays, Small indicator lights for automotive, aerospace, Etc.
– Acceptance Angle: ±10°
– Working distance: 28 ±2mm
– Accuracy guaranteed range for Lv:  0.002 – 6000 nits
– Accuracy for xy:  0.004 (at 0.02 nits), 0.003 (at 1 nits)
– Repeatability for xy:  0.003 (at 0.02 nits), 0.0008 (at 1 nits)
– Flicker measurement range: 0.25-200Hz, 35-6000nits
– Waveform Sampling frequency:  3kHz (7-6000nits)
• CA-VP404 ø4mm High-Sensitivity Small Spot Probe
  – Suitable for micro & small-displays evaluation
– Measurement area: ø4mm
– Applicable displays: Smartwatch OLEDs, Smartphone edges, Small APL (average pixel level) windows, Etc.
– Acceptance Angle: ±8.5°
– Working distance: 30 ±2mm
– Accuracy guaranteed range for Lv:  0.004 – 12000 nits
– Accuracy for xy:  0.004 (at 0.04 nits), 0.003 (at 1 nits)
– Repeatability for xy:  0.003 (at 0.04 nits), 0.0005 (at 1 nits)
– Flicker measurement range: 0.25-200Hz, 20-12000nits
– Waveform Sampling frequency:  3kHz (4-12000nits)
Long-Working Distance Probe
LWD Probe
CA-VP410T
• CA-VP410T ø10mm High-Sensitivity LWD Probe
  – Suitable for micro OLED displays evaluation
– Measurement area: ø10mm at a 200mm measurement distance
– Applications: Multi-angle measurement of in-vehicle displays or smartphone OLEDs, or evaluation of the angular characteristics of curved displays.
– Acceptance Angle: ±4°
– Working distance: 200 ±2mm
– Accuracy guaranteed range for Lv:  0.004 – 12000 nits
– Accuracy for xy:  0.004 (at 0.04 nits), 0.003 (at 1 nits)
– Repeatability for xy:  0.003 (at 0.04 nits), 0.0005 (at 1 nits)
– Flicker measurement range: 0.25-200Hz, 20-12000nits
– Waveform Sampling frequency:  3kHz (4-12000nits)
High-Luminance Probe
High-Luminance Probe
CA-P410H (left) and CA-P427H
• CA-P427H ø27mm High-Luminance Probe
  – Suitable for direct measurement for LED backlights
– Measurement area: ø27mm
– Acceptance Angle: ±2.5°
– Working distance: 30 ±10mm
– Accuracy guaranteed range for Lv:  0.01 – 30000 nits
– Accuracy for xy:  0.003 (at 0.1 nits), 0.002 (at 1 nits)
– Repeatability for xy:  0.0035 (at 0.1 nits), 0.0003 (at 100 nits)
– Flicker measurement range:
(1) 0.25-65Hz with low-pass filter, 30-9000nits
(2) 0.25-200Hz without low-pass filter, 30-30000nits
– Waveform Sampling frequency:  3kHz (6-30000nits)
• CA-P410H ø10mm Normal Probe
  – Suitable for direct measurement for small-size LED backlights
  – Measurement area: ø10mm
– Acceptance Angle: ±5°
– Working distance: 30 ±5mm
– Accuracy guaranteed range for Lv:  0.1 – 30000 nits
– Accuracy for xy:  0.006 (at 0.1 nits), 0.002 (at 1 nits)
– Repeatability for xy:  0.007 (at 0.01 nits), 0.0005 (at 100 nits)
– Flicker measurement range
(1) 0.25-65Hz with low-pass filter, 90-18000nits
(2) 0.25-200Hz without low-pass filter, 90-30000nits
– Waveform Sampling frequency:  3kHz (6-30000nits)