Illuminance meter products are single element detectors that measure photometric brightness falling upon a surface. It is measured in footcandles or in lux. The Konica Minolta illuminance meters measure the amount of light that strikes a surface. These instruments display illuminance in either lux or foot-candles and they are lightweight, compact and portable.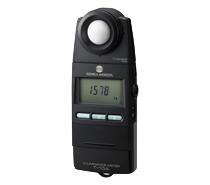 T-10A and T-10MA Illuminance Meters
When you need to evaluate the illumination of light hitting a specific location or perform lux measurements, the T-10A is the illuminance meter of choice.