Artificial Intelligence Controls Automotive 4.0 Inspections
---
Advanced artificial intelligence, data analytics, robotics, and smart manufacturing are digitally transforming all of today's manufacturing landscape. At this hi-tech stage industries such as automotive, agriculture, aerospace, and customized production are changing in exciting ways, employing superior tools to attain high-resolution measurement scanning to precise robotic laser welding systems. Engineers design applications to drive AI as a data analytic tool to create correlations designed to make predictions based on agile machine-learning algorithms.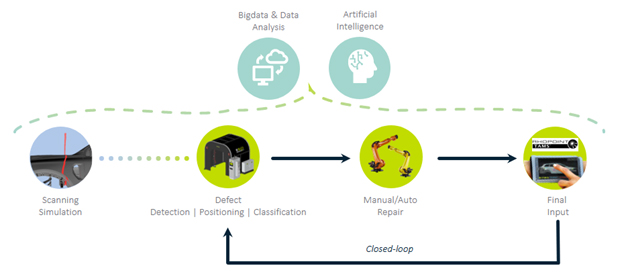 Eines Vision Systems – Digital AI in automotive paint operations
The impact of AI is enormous to manufacturing. Only recently has the technology truly caught up with the promises. The bottleneck now is having the processing power and micro-controllers necessary to run complex AI algorithms efficiently and quickly. Whether it's the measurement of automotive fit n finish, surface integrity, or color this new set of Big-Data can now be held inexpensively in cloud storage so much that computation engines are embedded to run the machine learning analysis.
In modern-day inspections, 3D modeling and computational analysis within an AI/ML intelligent system do the laborious scanning to identify vision camera images with nonconformance issues that flags out of specification data for more attention to downstream automation or repair personnel. For example, AI can measure scratches, dents, pinholes, and orange peel more accurately and consistently than most manual labor processes. One automotive manager commented, "The old way was labor-intensive with highly skilled technicians to achieve subjective results. Vision AI makes the results objective with a higher degree of accuracy."
One key attribute of using vision AI within automated inspection systems is that it does a great job recognizing patterns and can process thousands of images in milliseconds. Within the Eines Flush n Gap system, the programs look at the results of measured sections more accurately than manual inspections. The digital vision AI programmed inspection systems maintain consistent performance whereby operators become fatigued and bored of examining thousands of dimensional outputs. Powerful data can not only be harnessed for machine learning of part specifications but also simultaneously computes with parallel algorithms for process specifications, performed to accelerate efforts to develop robust root-cause analysis controls leading to alternative improvements in upstream processes.
Poorly training or untrained AI algorithms is one limitation of AI-controlled automation enabled systems, thus resulting in machine learning data processed inaccurately. Impacts on outputs can hamper the ROI case for sophisticated customized-data-driven automation systems. In all new vision system installations, I make it a point to correlate the data with highly skilled programmers and back-test the results to the specifications to ensure the data analytics are robust and cost-effective.
Data analytics can uncover patterns of nonconformance as small as tenths of a millimeter and material degradation in automotive production, beginning with stamped parts through the body shop, paint shop, and final assembly. Wide use of AI in EV assembly is not just for the actual battery builds but also for the battery to carriage assembly. Formal traceability of sequence of operations, part presence, testing measurements, and overall takt time lead to comprehensive big-data accessed by engineers to validate a mistake-proof process. Automated inspection systems vary in price from low thousands of dollar applications to elaborate tens of millions of dollars. It is best to work with an experienced vendor capable of assessing the application and crafting a solution suitable for the needs.
Wide use of AI adoption in automated vision systems has rapidly been employed in hard inspect operations that once were yielding inconsistent and unreliable results. This use decreases labor costs, improves data analytics, and allows the production line to operate continuously without impacting overall operational throughput. Machine Vision detection and measurement are found not only on robotic systems but also in Moving Line Tunnel-Style applications, such as Eines ESFI® Paint Scanner and EIFIS® Gap N Flush Measurement.

Do you have an application needing an assessment or need ROI assistance? Please inquire about this on the contact page of this website to get more information on the prospects of using AI in automated machine vision quality inspection processes or to problem solve by developing an AI program using cutting-edge imaging IoT technology provided by Konica Minolta's FORXAI®.