Testing Displays, Panels, and Lights for Night Vision Compliance
---
Aircraft cockpits have a vast array of light-emitting devices and display panels. Getting a proper and balanced light emission from all devices is vital for the pilot to read clearly the information from the instruments and ensure a safe flight. To do this, a pilot will wear NVIS (Night Vision Imaging Systems) goggles when flying at night. NVIS refers to the radiation emitted by the gauges, displays, and buttons. NVIS goggles amplify NIR radiation, 620 to 930nm, which is too weak for the human eye to see, at least 5,500 times and indirectly convert it into visible light via a green phosphor plate. Night vision goggles amplify small amounts of near infrared light, permitting night navigation and enabling safe navigation on land, sea, and air.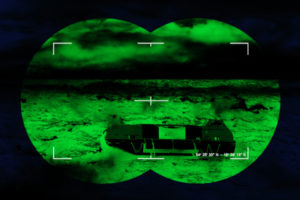 MIL-STD-3009 specification is used to test aircraft displays, indicators, panels, and navigation lights. These tests verify that in dimly lit conditions, everything appears as intended, additionally that the night vision device cannot see the total near-infrared light emitted. Indicators must follow a carefully chosen appearance scheme to aid the pilot in prioritizing information. Modern LEDs and other circuitry can produce near-infrared light despite being designed not to. Too much near-infrared could impair night vision. Certain aircraft that operate at night will require MIL-spec "NVIS" inspected components.
Instrument Systems' DTS 140D NVIS spectroradiometer is part of an all-in-one NVIS display measurement system, allowing users to set the MIL-spec testing criteria and execute a measurement. This system configuration automatically makes multiple visible and near-infrared light measurements at different sensitivities, recalculate the levels and recombine the spectral data. The system stores the data, and it is available immediately for reports. Instrument Systems GmbH est. 1986 is one of the few companies certified to test and calibrate spectroradiometers for MIL-spec compliance. Due to the wide range of optional accessories, this highly flexible system solution from Instrument Systems is ideal for use in the development process, quality control, and production of displays. Additionally, CALARIS software from Instrument Systems is available for customers to maintain their NIST traceable calibrations. Konica Minolta Sensing Americas, along with Instrument Systems provides a global service guaranteeing fast set-up and full support over the entire lifetime of your system.
Instrument system GmbH became part of the Konica Minolta Sensing group in 2012 and represented by Konica Minolta Sensing in the Americas.
To learn more visit our product page and read our Application Note about this NVIS technology and our DTS 140D NVIS spectroradiometer.