What is Traceability?
Traceability is the process established to relate each standard object or measuring instrument to national standards through calibration to a higher standard.
For high-accuracy measuring instruments, even small deviations from national standards may cause problems. To avoid such problems, maintenance of Konica Minolta's in-house standards is performed by periodically re-calibrating each standard to Japanese national standards or other international standards. These standards are selected according to the functions of the Konica Minolta products being sold. Please see following calibration charts with details about traceability for all Konica Minolta measuring instruments.
To view a sample inspection and calibration system, click here.
Establishment of Traceability
---
The diagram down below shows how traceability to national standards is accomplished. In Japan, national standards are developed and primary standards are maintained by different divisions of the Agency of Industrial Science and Technology (AIST), which is an agency of the Ministry of International Trade and Industry (MITI). The two divisions of AIST which are involved in areas of standards related to Konica Minolta products are the Electro-Technical Laboratory (ETL) for products measuring light and colour, and the National Research Laboratory of Metrology for products measuring temperature. These divisions do not, however, distribute physical standards to industries and organisations; in Japan, physical standards which meet the specifications established by the divisions of AIST are manufactured, certified, and distributed by public certification institutions such as the Japan Electric Meters Inspection Corporation (JEMIC) or accredited calibration bodies from Japanese Calibration Service System (JCSS).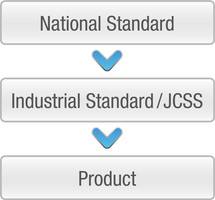 The national standards of each country are similar and often related by international agreements. These standards are maintained by National Institute of Standards and Technology (NIST) in the United States, the National Physical Laboratory (NPL) in the United Kingdom, Physikalisch Technische Bundesanstalt (PTB) in the Federal Republic of Germany, Institut National de Metologie (INM) in France, etc.
In order to ensure the accuracy of Konica Minolta products, Konica Minolta has established a system wherein the measuring instruments and other equipment used as in-house working standards are periodically re-calibrated utilising higher standards, traceable to national standards, which have been established and are maintained by industrial standards organisations.