Spectrophotometer CM-36dG
---
High-precision spectrophotometer with an integrated ISO compliant gloss sensor and stability check
Introducing the industry's first color and gloss bench-top spectrophotometer, the Spectrophotometer CM-36dG, with an integrated ISO 2813 compliant 60° gloss sensor inside to measure color and true gloss simultaneously. By measuring and reporting both values together, you can streamline your quality control workflow, reduce operator errors, and save on equipment and maintenance costs.
The Spectrophotometer CM-36dG is a high-precision and high-reliability bench-top instrument capable of measuring color either in reflectance or transmittance, ideally suited to a wide range of applications such as Plastics, Paints, Ceramics, Chemicals, etc.
The Spectrophotometer CM-36dG utilizes the patented and proven Numerical UV Control (NUVC), unsurpassed technology for UV adjustments when measuring samples that contain optical brighteners such as pulp, paper, textiles, or chemicals.
The Spectrophotometer CM-36dG includes several new features to improve the user experience. Status LEDs provide clear visual feedback, a camera preview system for sample positioning and reporting, and versatile port alignment allowing the device to be rotated 90° to measure powdery materials in "Top-port" style.
The optional Wavelength Analysis & Adjustment or WAA, a Konica Minolta Sensing innovation, compensates for slight shifts in measurement values due to external factors. It assures the highest accuracy and repeatability levels for this class of instrument when done together with annual calibration and maintenance.
The Spectrophotometer CM-36dG is compatible with SpectraMagic NX2 software to record measurements and provide a more comprehensive color analysis, as well as Colibri software to formulate color recipes for various applications and share real-time measurement data.

Click here for CM-36dG Accessories Brochure

Click here for the CM-36dG Brochure.

Click here for the CM-36dG Manual.
Existing Customer?
If you're looking for service support or help with calibration then complete a service request form and we'll get right back to you
Features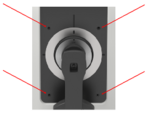 Efficient sample presentation
Four screw threads and linear guidelines in the front plate enable the operator to create custom jigs to accurately position samples, maximizing the measurement process's repeatability and speed.
Camera previewer for accurate sample positioning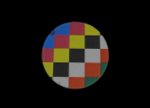 The integrated camera viewer provides a clear preview of the sample for precise targeting and controls the measurement area. The software can capture images of the measurement area to provide detailed and concise reporting.
Reflectance and Transmittance measurements, horizontal or top-port
The Spectrophotometer CM-36dG can measure solid or liquid samples in reflectance or transmission mode, horizontally or in a vertical standing position; this offers great flexibility for measuring various samples ranging from opaque to translucent and transparent.
The large, open sided transmission chamber can measure transparent or translucent samples of any size with ease. The transmission chamber lid features a lift-and-turn lock to prevent accidental opening of the device. It locks the chamber when being used in a vertical standing position to measure powdery material in petri dishes.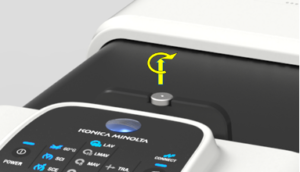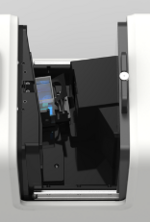 Numerical UV Control for Accurate Measurements of Fluorescent Materials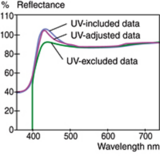 Accurate measurement of materials such as paper or cloth treated with optical brighteners (OBA) requires precise control of the UV component. The patented Numerical UV Control method (familiar to customers who used the Spectrophotometer CM-3600A) provides UV control by using proprietary calculations to combine the results from two xenon lamps' flashes. One with full UV energy, the other with UV energy removed by a UV-cutoff filter (either 400 nm or 420 nm). This method eliminates the need for lengthy filter position adjustment processes and enables UV adjustment by Whiteness Index, Tint, Brightness, or UV profile.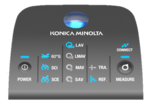 Easy to read LED indicator panel with measurement button
The LED indicator panel displays current measurement settings at a glance. In addition, the measurement button in the panel allows measuring samples remotely.
Measurement Areas to match your samples
The Spectrophotometer CM-36dG offers four different apertures with Ø 4.0, 8.0, 16.0, and 25.4 mm to provide a suitable measurement size for any sample.
Optional "Wavelength Analysis & Adjustment" – (WAA)
"Analyze – Adjust – Activate" – Konica Minolta's patented technology checks and adjusts possible wavelength shift during each instrument calibration. This procedure assures unsurpassed long-term measurement stability and can keep measurements stable even for changes in temperature or environmental conditions over time.
WAA allows the operator to distinguish whether the instrument itself is the cause of measurement differences, reducing troubleshooting time and providing improved certainty within supply chains.
Specifications
Benchtop Spectrophotometers CM-36dG
Color
Illumination/ viewing system
Reflectance:

di: 8°, de: 8° (diffused illumination, 8° viewing), SCI (specular component included)/SCE (specular component excluded) switchable
Conforms to CIE No.15 (2004), ISO7724/1, ASTM E1164, DIN 5033 Teil7, JIS Z 8722 Condition c standard

Transmittance:

di:0°, de:0° (diffused illumination, 0° viewing)
Conforms to CIE No.15 (2004), ASTM E1164, DIN 5033 Teil7, JIS Z 8722 Condition g standard

Integrating sphere size
Ø152 mm
Detector
Dual 40-element silicon photodiode array
Spectral separation device
Planar diffraction grating
Wavelength range
360-740 nm
Wavelength pitch
10 nm
Half bandwidth
approx. 10 nm
Measurement range
0-200%
Resolution: 0.01%
Light source
3 Pulsed Xenon lamps (NUVC)
Light source life time
more than 1 Million
Illumination / Measurement area [mm]
LAV:   Ø30.0 / Ø25.4

LMAV:Ø20.0 / Ø16.0

MAV:  Ø11.0 / Ø  8.0

SAV:  Ø  7.0 / Ø  4.0

Trans:Ø24.0 / Ø17.0

Measurement time
Approx. 3.5 second (SCI+SCE measurement)
Approx. 4 second (SCI+SCE+GLOSS measurement)
Minimum measurement interval
Approx. 4 second (SCI+SCE measurement)
Approx. 4.5 second (SCI+SCE+GLOSS measurement)
Repeatability
Std. dev. within ΔE*ab 0.02
IIA
within ΔE*ab 0.12 (LAV/SCI) Average for 12 BCRA Series II color tiles compared to values measured with master body.
UV setting
100% / 0% / Adjusted
(Instantaneous numerical adjustment of UV with no mechanical filter
movement required)*1; 400 nm and 420 nm UV cutoff filters
Gloss
Measurement geometry
60°
(complies to ISO 2813, ISO 7668, ASTM D523-08, ASTM D2457-13, DIN 67530, JIS-Z8741, JIS-K5600)
Light source
White LED
Detector
Silicon photo diode
Measurement range
0-200 GU
Resolution: 0.01 GU
Measurement area [mm]
MAV: 10.0 x 8.0 mm ellipse
SAV: Ø3.0
Repeatability (MAV)
0-10 GU: within 0.1 GU
10-100 GU: within 0.2 GU
>100 GU: within 0.2% of indicated value (Standard deviation)
IIA (MAV)
0-10 GU: ±0.2 GU
10-100 GU: ±0.5 GU
Sample preview
RGB Camera
Internal Performance Check*2
WAA (Wavelength Analysis & Adjustment) Technology (service contract required for activation of this feature)
Interfacing
USB 2.0
Operation temperature / humidity range
13-33°C / rH 80% or less (at 35°C) with no condensation
Storage temperature / humidity range
0-40°C / rH 80% or less (at 35°C) with no condensation
Size [mm]
 248 x 250 x498 mm
Weight [kg]
 8.4 kg
*1 Numerical adjustment of UV requires UV Adjustment Software (included with optional SpectraMagic NX Pro Ver. 3.2 or later)
*2 WAA license purchase required.